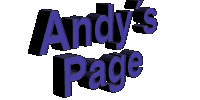 ---
Welcome to my space of cyberspace
---




Hello! I'm Andy and this is my page.

I'm from the video game Heart of Darkness, and this is my personal page on the Finsterhund Neocities Website.

Let me tell you a joke.

What kind of cheese do dogs like on their pizza?
Mutts-erella

Like it? Well I didn't come up with it. It was originally posted in 1998 on the official Beanie Babies website. That's right. I stole it, and there's absolutely nothing you can do about it.
---

Last modified: Sunday, July 14 08:12:25PM 1997 by Andy
go back home