Welcome to Spot the dog's SPOTlight!

---
Hey guys! Thanks for stopping by my "spot" on the Internet! First off, I would like to thank Andy for letting me make my very own page, because after all, if it wasn't for him, I wouldn't have this "spot"! Wow, my life has been really busy lately. I'm not sure if you guys know this, but I was the light technician for the presentation that was made on the 1st! Now that was an experience! I've never done anything like that before! And boy, was this site ever busy! I didn't even know we had that many friends. I heard that so many people came to see us that some of them couldn't even get in! I guess you could say it was a sold-out performance!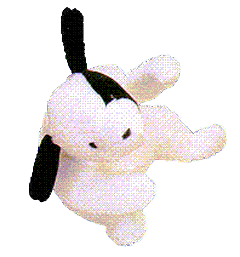 Well, I hope that by now everyone has seen the performance, because everybody have been working really hard for the past couple of weeks to prepare themselves for the big event. Did you know Whisky the scenthound's birthday is exactly ten days away from mine?! Let me tell you a little story, Whisky and I were sitting backstage at a rehersal one day and we were talking. Well let me tell you, whenever the HoD cast come around, there's not much more to talk about other than, 'So, when's your birthday?' or 'What's your poem?' Simply because we don't know these guys well enough yet. Kinda doesn't work out though cuz they're not beanies. So I asked Whisky when his birthday was, and he said January 13th! My birthday is on January 3rd! I thought that was kind of coincidental (I just learned that big word yesterday). But Whisky is one pretty cool scenthound, and that's why I invited him to make this page with me! Whisky is lost when it comes to this whole Internet thing, so I thought this would be a good way to introduce him to all the great things the Internet can offer. So without further ado, here's your new pal, Whisky the hound!

Um, hi guys! My name is Whisky the gascon saintongeois and I am glad to be a part of this page. As you've probably guessed, Andy found this old page from the Beanie Babies website and retrofitted it to work on our site instead. He really likes Spot you see. Spot helped me type this, because I can't type too well yet. I guess I'm a Beanie Baby! Woopee! Uh, that is all I have to say. Bye!

Isn't Whisky the coolest? Hey! Have you guys signed up for the Totally Real Email List? It is the most happening thing on this site! I love the Internet! Andy let me make my own personal guestbook, which I like to call Spot's Spot. This is my own little corner of the Internet where all my friends can leave personal messages for me. I hope you guys will leave a message for me too - but make sure you get a password from the Agonizing Torment Page first. This is so cool! I love eggs! Well, I have to go now, but I'll talk to you guys later.

Bye Bye!

Love,


Please click on Spot's writing to enter Spot's SPOT.

Back to the Spot the Dog Menu
Back home ...